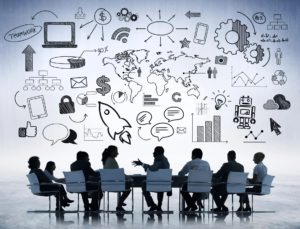 OK, meetings CAN be a good thing – when they are productive and are used to gain agreement and create momentum to move things forward. If that's true, why are most meetings a waste of time?
It's because great meetings don't happen by chance.  They happen by planning – and most people don't take the time to plan. That's why when you do, you differentiate yourself and get recognized for being respectful of others time and energy.
This lesson was reinforced to me when I joined an ongoing team that met once per month.  It seemed that the team was getting as much accomplished as they could.  As Franklin Covey would say, seek first to understand.  I wanted to understand the purpose and value of these meetings and then determine if there was a way to accelerate the performance of this team.    One of the first things I noticed was there wasn't an agenda, or at least one that was followed.   Without an agenda, the meetings were all over the place.  We ended up out of time and would not have discussed the most important items.  Discussions were held over from one month to the next without resolution.  There were no notes shared after the meeting so no one took ownership of action items to move things forward.  I was only going to be with this team a year, and knew we had to make progress.
I started slowly, by sending out meeting notes with what we had agreed upon and next actions that were committed to.   People that had not been in attendance were now able to catch up on what was missed.  Then, I suggested we add a review of the action items at the beginning of the meeting.  The first time we reviewed them, it was a little awkward.  People hadn't thought about what they committed to and didn't expect for it to be followed up on.  When it was, people began to take ownership of their items – and sometimes do even more than was asked to keep the initiative moving forward.  This was the beginning of overhauling our meeting process.  How do you think through a meeting?
1-    First, start with your objective.  As a result of this meeting you want what to happen?  And please, don't let it be awareness!  That can happen in so many other ways that calling a meeting.  Don't call me into a room to read to me.
2-    Now that you have your objective, ask yourself – Can this be accomplished in another way other than calling a meeting?  If yes, consider those options first.
3-    You have decided that you have to call a meeting to accomplish your objective.  Think through the following items –
What is the PURPOSE of the meeting?
Who HAS to attend to complete your objective?
What ROLE will each person play in the meeting?
What PRE-WORK (reading, thought, action, etc) can/should occur before the meeting?
What DECISIONS will be made at this meeting?
What MATERIALS/INFORMATION do I need to provide before or during the meeting?
How much TIME will the meeting take?  Use your meeting time for discussion, alignment and action planning – NOT presenting.  They can read right?  Ask them to.
4-    Now create an agenda that supports the thinking above.  Use that agenda to request people to attend, and to know what you need and expect of them.
5-    AFTER the meeting, document what was agreed to, action steps and timeline.  Send it to the attendees in a timely manner.  It keeps the information top of mind and you can continue the momentum you have created.
It works.  In my situation, someone came up to me and said with our new meeting process we had gotten more accomplished in the last 3 months that they had all last year.
Awesome amazing meetings can happen.  Plan for success!